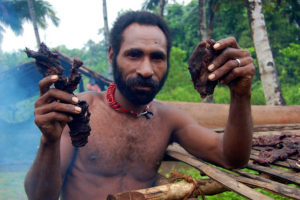 Bushmeat is defined by the Convention on Biological Diversity (2011) as: The meat of wild animals harvested in tropical and sub-tropical countries, for food and for non-food purposes, including medicinal use.
The Center for International Forestry Research (CIFOR) today launched a new website on bushmeat – wild species that are hunted for food. The site brings together decades of research on the sustainable management of wildlife, with a particular focus on hunting in the tropical forests of the Congo Basin and the Amazon. The research forms part of the CGIAR Research Program on Forests, Trees and Agroforestry.
Visit the Bushmeat website here.
Read about the latest research on Forests News here.
The new site builds on the work of the Bushmeat Research Initiative (BRI) and the Collaborative Partnership on Sustainable Wildlife Management (CPW) to create a comprehensive resource for journalists, researchers, policy makers, students and the general public.
The latest publications and research findings on bushmeat are presented together with news from the field, as well as a suite of multimedia products, including animation, videos and photo essays. Researchers are encouraged to add their own findings to the interactive Bushmeat Database and Data Map, joining a global community of practice on bushmeat.
CIFOR plans to launch similar content packages on other areas of research in the near future.