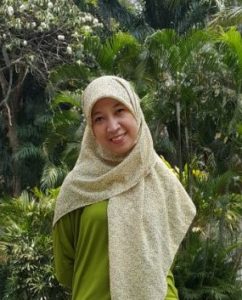 Elok Mulyoutami is an anthropologist and sociologist with the World Agroforestry Centre (ICRAF), working on the Agroforestry and Forestry in Sulawesi: Linking Knowledge with Action (AgFor) project in Sulawesi, Indonesia. AgFor Sulawesi is a project that has been running for five years and involves local communities, civil society groups, conservation organizations and universities to improve farmers' incomes through agroforestry and natural resource management systems. We asked Elok Mulyoutami about her work and professional background.
Elok, in your own words, what is this project about?
AgFor is a Research in Development project which means that it seeks to address a development issue through research and that we must ensure that the results of our research are used for development processes. AgFor is a collaboration between ICRAF, the Center for International Forestry Research (CIFOR), universities and non-governmental organizations (NGOs).
There are three interlinked components: Livelihoods, Governance, and Environment. The Livelihoods and Environment components are led by two different ICRAF teams, the Governance theme is managed by CIFOR.
All project activities are designed and implemented to be gender-inclusive and project data and results should be disaggregated by gender.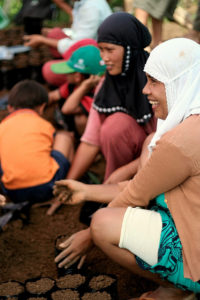 Can you tell us a bit more about the different components of the project?
The project has three components
(1) Improve sustainable and gender-equitable use of agroforestry and forestry products for livelihoods by poor women and men,
(2) Increase equitable involvement of women and men in participatory governance of land use and natural resources at sub-district and district levels,
(3) Improve integrated management of landscapes and ecosystems (environment) by local stakeholders through enhancing their capacity.
Under the Livelihoods theme, we want to improve the sustainable and gender-equitable use of agroforestry products, and to increase women's participation in governance issues related to forestry.
All three components are designed to create synergies and support each other, and the ICRAF and CIFOR teams work closely together. CIFOR's work relates to local institutions and NGOs at the three sites in South Sulawesi, South East Sulawesi, Gorontalo provinces.
ICRAF is responsible for designing ecosystem services schemes and livelihood enhancement activities, we have people based there and also collaborate with local NGOs.
What is your role in AgFor?
My responsibility in this project is to make sure that the project implementation is still on track in being gender inclusive and that the data are in fact disaggregated.
The first thing we do is to identify a baseline related to gender issues e.g. income, gender relation, and different knowledge of men and women in each community that we are working with.
Next, we trained everyone involved in the projects, ICRAF staff working in the field, and all implementing partners on the ground in how to conduct gender sensitive projects.
The training program is meant to improve people's skills in integrating gender in cross-sector programs and to make researchers and implementers understand how gender-sensitive indicators can be used as tools for measuring the results of AgFor. In this, we have to consider the Gender Equality policy of Global Affairs Canada (previously CIDA). Of course, we regularly monitor our progress.
What were the main project activities?
The project target is to reach a women's participation of at least 50 percent for the outcomes and outputs.
We approach the communities and encourage both men and women farmers to form farmers groups. In these groups, we train the farmers to develop a good nursery, how to produce a high-quality seedling, to deal with the market, pest and disease control. Basically, how to improve their knowledge of everything related to improving the productivity of their garden.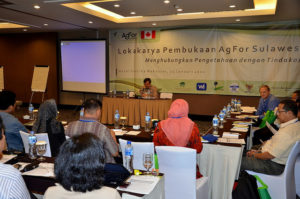 Our local teams, based in every province, play a very important role as facilitators. These teams come mostly from ICRAF and some local NGOs.
With regards to the farmers groups, the communities can decide if they want to have separate groups for women and men or if they want to mix. We observed the progress of the groups and found that the success is not easy to predict. Sometimes mixed groups perform better than the ones separated by gender. The performance depends very much of the location, which, of course, expresses itself in a specific culture and local tradition.
Then, of course we promoted the farmers groups and found a farmer champion in some villages to help us get the message out and encourage participation in the wider communities in each villages. We helped develop 139 farmers groups with more than 2881 farmers as members, 35 percent of them are women, and nearly 10 percent of the women involved are quite vocal in the villages.
How do you explain the project's gender aspect to the local people?
We try to encourage both men and women to attend the farmers meetings, but we leave it to them to decide if the husband or wife comes alone or if they both attend. We encourage them to also work together in the field, so if one of them has learned something new in the training he or she should communicate it to the other.
It's easy for the project staff to bond with the local communities because we have offices near the villages where we do our research. Female researchers are available in case we want to gather information on sensitive issues, about which a woman might not talk to a man.
We also have co-facilitators who come from the local communities and speak the same language. They can help in communicating, as the language can be a problem for us in certain locations. And it is important that we don't force them to participate, but rather encourage them.
How has this project emerged from previous research?
Previously we had projects related to livelihoods, to the environment or to governance, but they were maintained separately. In AgFor, we have integrated the three areas and interlinked them. We learned from previous research that it makes sense to bring them together.
More precisely, in 2007 and 2009 the Government of Canada supported ICRAF in implementing the Nurseries of Excellence (NOEL) Project in Aceh, with the goal of rebuilding agricultural infrastructure after the 2004 Tsunami. The NOEL project was very successful, exceeding its targets.
Therefore, the Canadian government asked ICRAF to develop a project for Sulawesi that would build on lessons learned in the NOEL project.
South Sulawesi, Southeast Sulawesi and Gorontalo were selected as the AgFor project sites to strengthen and diversify farm livelihood systems of rural communities where people where surviving at or below the poverty line. The project aimed to protect communities' natural capital and Sulawesi's unique biodiversity.
The projects before AgFor had gender inclusive approaches and disaggregated achievements and data, but unlike AgFor they had no explicit gender target and did not put as much emphasis on gender outcomes.
You've worked with indigenous communities and sensitive issues. Did you encounter challenges related to cross-cultural research during this project? If so, how have you dealt with them?
AgFor works with both indigenous and migrant communities.  We follow the cultural norms of each community, adjusting our approach accordingly.
One of the first things we do when entering a community is to stress the need to have a gender equitable approach. Group discussions are used to identify the gender roles and knowledge regarding agriculture production, livelihoods and natural resource management.
That way, the communities can identify for themselves that each gender holds crucial knowledge and skills. They can understand the importance of a gender-equitable approach.
What can this project achieve?
After five years, we can say that AgFor has contributed to a more equitable use of agroforestry as well as agroforestry products. Our data supports that. At farm-level, the participation of women has increased. This means that for the Livelihoods component, the outcome in terms of gender research is positive. For the areas of Governance and Environment it is much more difficult to change things quickly, which is why the representation of women is still rather weak in these areas.
What is your professional background?
I'm an anthropologist and also have Master's degree in rural sociology. I have been working with ICRAF since 2003. In the beginning, my research was related to local knowledge, so I gathered information from the villages on biophysical issues.
I became interested in gender issues and when gender became more important in ICRAF, people started saying: You could be good as a gender specialist. So I started to learn more about it. This must have been around 2010.
Before ICRAF, I had worked for local NGOs that were involved in research in social sciences. That was in Bandung, we call it Akatiga, center of social analysis.
When I came to ICRAF, I learned more about the biophysics aspect. The fact that I am able to combine all those disciplines gives me so many advantages.
Given that this is the gender newsletter of the CGIAR Research Program on Forests, Trees and Agroforestry, we would like to ask you: if you were a tree, which tree would you be, and why?
I would definitely be a coconut tree, because it has multiple uses. Coconut products are cheaper compared to other tree crops, but every part of the tree can be used.
Further reading:
Impact story: Sulawesi provinces promise to stick with agroforestry
Nipa-Nipa reserve saved by multilateral alliance of government, farmers and NGOs
Kolaka Timur District moves to adopt agroforestry
Changing mindsets and landscapes in Sulawesi one district at a time