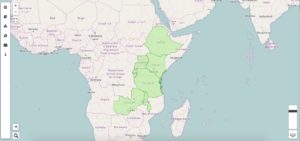 By Roeland Kindt, Senior Ecologist, World Agroforestry Centre
In collaboration with the International Union for the Conservation of Nature (IUCN), the World Agroforestry Centre is organizing a workshop in Uganda to train users of the new version of the Africa Tree Finder. The workshop is planned for the first week of April with IUCN finalizing the exact dates right now. Watch this space for more information.
The Africa Tree Finder is a smart phone application developed for the www.vegetationmap4africa.org. The App can easily be installed on a smart phone with the Android operating system via the Google Play store.
Similar to the objectives of the web-based and Google Earth versions of the vegetationmap4africa, the main objective of the Africa Tree Finder is to enable selection of 'the right tree for the right place' by combining information on the distribution of indigenous tree species in natural vegetation types with information on products and services that these tree species can provide.
A specific objective of the App is to support forest landscape restoration activities related to the Bonn Challenge, a global effort to restore 150 million hectares of the world's deforested and degraded lands by 2020 and 350 million hectares by 2030. In response to the Bonn Challenge, Rwanda has committed to restore 2 million hectares, whereas Uganda has committed 2.5 million hectares, Kenya 5.1 million hectares and Ethiopia 15 million hectares.
 In the newest version of the Africa Tree Finder, information is provided on the origin, local names (a key feature requested by local users), species description, ecology, uses, propagation, seed treatment, seed storage and management for species listed in the RELMA-ICRAF useful tree species series. The newest version of the App also enables users to upload geo-referenced imagery that documents progress on restoration projects or that can be used to verify the accuracy of the map.