Pro-sustainability pledges by big multi-national corporations dominated the past weeks' environmental news. While this might inspire hope, the journal Nature warned that for the past year forest loss  in the Brazilian Amazon has been soaring, ending the previous trend of slower deforestation. ICRAF made it into the Washington Post that covered agriculture and GMOs, but agroforestry was just cursorily mentioned, nothing meaningful unfortunately. But first some good news from a London event from the Global Landscapes Forum series, organized by CIFOR, UNEP, the European Investment Bank and the Word Bank:
Reuters featuring CIFOR, UNEP, EIB and WB green investment event
Protecting the world's dwindling forests and making small farms more productive will cost hundreds of billions of dollars annually – money governments and charities do not have to spend, experts said at a conference on investing in global "landscapes" at the Royal Society in London. Private investors could fill the gap, they said – but only if environmentalists and finance experts work together to create investment products that are financially attractive and effective in creating the right kind of change on the ground.
 CLIMATE CHANGE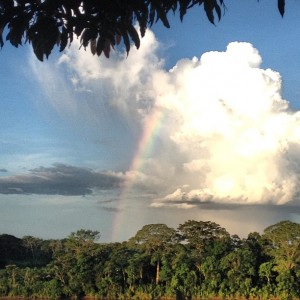 Deal on forests at Bonn climate talks
Delegates at Bonn's preparatory UN talks surprised observers by agreeing on thorny aspects of the scheme called Reducing Emissions from Deforestation and Forest Degradation, known by its acronym REDD+….Forest Trends said by putting value on intact ecosystems REDD+ would generate "significant amounts of finance" for developing countries to keep their forests rather than chopping them down.
CORPORATIONS AND FORESTS
Companies call for tougher sustainability standards for palm oil
Industry leaders such as PepsiCo, Walmart and Starbucks banded together, urging the Roundtable on Sustainable Palm Oil (RSPO) to enforce stricter  certification standards for sustainable palm oil.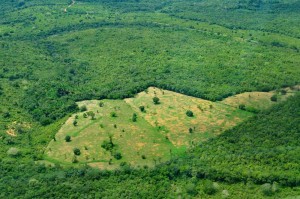 Brazil beef industry pledges cut Amazon deforestation
A new study in the journal Conservation Letters finds that voluntary zero-deforestation commitments by corporations such as McDonald's can radically clean up supply chains. Public agreements made by beef suppliers in Brazil have had a real impact on rancher and slaughterhouse behavior in the Amazon.
As ADM aims to end deforestation in its supply chain, will soy become the next palm oil?
In a potentially big win for Latin American rainforests, Archer Daniels Midland, the third largest global supplier of agricultural commodities, has adopted a draft policy to end deforestation across its supply chains. The company is expected to formally announce the new plan at its shareholders meeting. ADM's commitment rivals that of palm oil giant Wilmar's anti-deforestation promise in 2013.
Environment: Deforestation soars in the Amazon
Philip Fearnside states that deforestation of the Brazilian Amazon is currently increasing, and not declining as Nature implied in an earlier article that was based on data predating the recent surge. Forest clearance has exploded since August 2014, according to satellite data from Brazil's National Institute for Space Research and the sustainable-development organization Imazon, he writes. Monthly clearance rates are several times those for the same months in the preceding two years.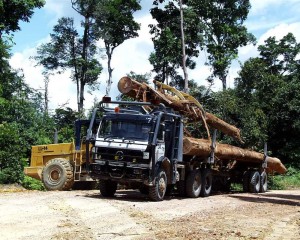 Unlikely 'champion' in battle for Indonesia's forests
One of the world's largest pulp and paper producers, April, announced that it had stopped clearing forests as part of its operations – but the battle to stop deforestation is still far from won. April controls a million hectares of forests in Indonesia, and has now said it will allocate nearly half of it for conservation. The environmental group Greenpeace, which has previously been a fierce critic of the company, now called it a "champion" and vowed to closely monitor the implementation of the new policy.
Europe's Green Policies Contributing To Large Scale Deforestation In USA
Large areas of Southern Forests are being cut to make wood pellets bound for Europe. This loss of green cover has raised a red flag among green crusaders. Europe, for their climate change targets, is promoting the use of wood pellets to reduce the greenhouse gases. The American forests are paying the price. And Phys.org reports that the supply of woody biomass from the forests in the European Union can be increased significantly beyond the current level of resource use. However, this involves trade-offs with biodiversity and other services that forests provide to humans.
Indonesia Is Using Drones to Catch Tax Cheats
Above the vast forests of oil-palm and rubber trees in Sumatra and the scattered tin mines on islands to its east, the Indonesian government is flying unmanned aircraft to catch cheats who under report the size of their plantations or the extent of their mineral extraction.
BIOLOGICAL DIVERSITY
Seven new species of miniature frogs discovered in cloud forests of Brazil
Tiny frogs smaller in size than bumblebees have evolved with fewer fingers and toes to reduce their size to adapt to life on isolated mountaintops.
When the last of India's forest corridors vanish, so will the wildlife
It's World Environment Day again (5 June), and the government has announced a massive plantation drive—the second urban forest programme—that seeks to take up the nation's forest cover from the present 24% to 33% in the next five years….There's just one small glitch: Little is known about the species to be planted and how the saplings will be looked after in the years to come—a vital piece of information because it goes to the heart of forestry statistics and, indeed, the very definition of forests….Take, for instance, the environment ministry's statistics that 24% of India is under forest cover. Environmentalists say even that is debatable as large parts of the green cover are technically man-made plantations.
FARMING
The last thing Africa needs to be debating is GMOs
…… As polarizing ideas go, though, the green revolution's got nothing on genetically modified crops, and in Africa, as here, that topic is dominating the debate about food. And there, as here, GMOs are a proxy for the excesses and dangers of an industrialized food system….And overwrought the debate about GMOs in Africa certainly is. While agricultural nonprofits like Grain and Practical Action oppose them in relatively sober terms, others, like ActionAid, use full-on scare tactics. …While I was in Africa, I talked with scientists who were trying to improve agriculture from just about every angle. Some organizations have opted against using genetic modification (as AGRA has); Ravi Prabhu, at the World Agroforestry Centre, is looking for ways to improve farm productivity by incorporating trees.
Agroforestry increases farmers' net profits, reveals survey
A recent survey conducted by forest department in Bareilly district, India, has revealed that farmers who grow Eucalyptus and Poplar trees in their fields along with their traditional crops find that their net profit increases by 2.5 to 3 times within a period of seven years. The agroforestry survey also stated that if sugarcane plantation is also added to the combination, the profit goes up by five times.