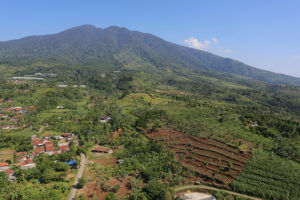 By Meine van Noordwijk, Chief Science Advisor and Co-Leader Environmental Services, World Agroforestry Centre, Coordinator Flagship 4
In Flagship 4 Landscapes dynamics, productivity and resilience we will invest in 2017 in a few change of theory topics. The first is an event on March 21 and 22 on new insights in the role of forests, trees and agroforestry in the hydroclimate. We all know forests and trees are 'cool', but with the new insights and evidence this term gets new meaning, visit the event page and register soon.
We will also see the completion of a book full of case studies and perspectives on payment for ecosystem services. The introductory chapters are already online, further work is added regularly. It may change your idea on what PES is, how it can be used and what can go wrong. Its message is a change of theory, from a focus on economic efficiency to a more socially balanced co-investment.
A similar reorientation is coming out of the analysis of certification schemes across five major tropical commodities. Again a few papers are already online, others will be added as they have completed the external peer review trajectory. Further syntheses are expected to emerge this year that will argue that forest and trees are relevant for nutritional diversity.
---
Read also: Cool insights for a hot world: trees and forests recycle water
---
The currently dominant theory of change is based on landscapes as social-ecological systems, in which change is part of learning loops in which evidence, logic, innovation, political platforms and trade-offs all play their role. With the multi-layer reality of polycentric governance this is complex, with breakthroughs requiring considerable investment in social capital–plus a bit of luck. We engage in many places, and cannot yet be sure what the 2017 success stories will be–although our planners and funders are eager to find out.
Further synthesis of findings on qualitative and quantitative tree cover transitions will support the definition of theories of place within land-use systems typologies. These will serve to delineate extrapolation domains that are key to the generation of international public goods from place-based research.
The FTA Sentinel Landscape portfolio will be managed as part of FP4 and provide a 5% sample of area across the tropics, and 8% of people, 9% of tree cover and 10-12% of potential tree crop presence, with quantified biases across ecological zones, forest-transition stages and Human Development Index classification.
We have learned that coffee expansion in the water tower landscapes highlights contested ecosystem services that will deserve further attention.
We expect that a more systematic approach to the current policy interest in restoration will bring new progress, and will invest some time in 2017 in that type of learning by doing.