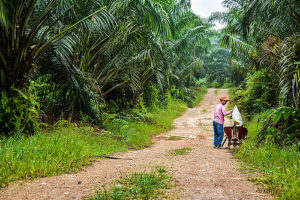 The updated Borneo Atlas offers new data to measure the impact of mills and plantations on forests.
In 2013, a number of major palm-oil buyers, traders and producers promised to stop clearing natural forests. The global multi-billion-dollar business of palm oil is among the world's most controversial agro-industries. It has been implicated in numerous cases where species- and carbon-rich forests have been cleared, yet it also contributes to the elimination of poverty in producer countries.
Indonesia and Malaysia are the world's top two producers of palm oil. Their area of industrial plantations more than quadrupled in extent from 1990 to 2015. Over the same period, regional rates of forest loss rose to among the world's highest. Forest clearance is driven by a number of factors — establishing plantations is one factor. The development of mills and associated infrastructure to extract and transport palm oil also impacts forests.
The latest version of the Atlas of Deforestation and Industrial Plantations in Borneo, or what we call the Borneo Atlas, part of the work of the CGIAR Research Program on Forests, Trees and Agroforestry (FTA) launched this week allows users to verify the location and ownership of 467 palm-oil mills in Borneo, the island shared by Indonesia, Malaysia and Brunei Darussalam. It includes a new tool called Analyze Land Use near Mills to provide verified information on the location of palm-oil mills, and the deforested area within a 10-kilometer radius, as detected annually by satellites.
The new tool can be used together with an earlier tool called Analyze Land Use in Concessions, to track the footprint of palm-oil growers on forests. It links the company-driven forest loss (i.e. the forest area converted each year to industrial plantations) detected annually using satellites with publicly available concession maps. Combined, these two tools are useful for the increasing number of palm-oil buyers, traders and government officials who have begun tracing supply chains to mills and plantations. Buyers are currently focusing their attention on traceability to mills, because the location of a mill is a good indicator of the approximate location of its supplier.
Understanding where mills and plantations are is also useful to better understand the overall impact of industrial palm-oil developments on tropical rainforests.
Try it: Atlas of Deforestation and Industrial Plantations in Borneo
ADDED FEATURES
Via the interactive map, users can zoom in on a 10-kilometer radius of each mill — the distance fresh palm fruit can travel without spoiling. The actual distance that fruit has travelled to reach the mill in fact vary depending on commercial agreements, road networks and terrain, and does not fall into a perfect disc around the mill.
However, this simplified added feature does offer a more complete view of the impacts of industry on forests. Users can rank concessions and mills by recent clearing, and access statistics on forest health and land use. They can visualize poorest and best performing mills and concessions by company, soil type (peat and non-peat), by remaining forest area, and by type of certification.
The idea is to offer the opportunity to investigate to what extent plantation companies have cleared forests in Borneo, and to what extent they have avoided forest loss by planting on non-forested lands. Understanding where companies practice sustainable planting is key to engaging and promoting positive actions by companies.
We developed this dataset by reviewing online documentation on company dashboards, NGO websites, certification agencies (RSPO and ISPO), mapping websites and social media. The source documents for these data are linked in the results of each search so they can be consulted by users. A link to the mills' location on high-resolution imagery from Google Maps and ArcGIS World Imagery is also provided for each search, to prove that the mill exists.
Future developments will include linking mills to supplier plantations, to ports and refineries, and incorporating time-lapses to reveal how industrial oil palm has expanded.
Read more: What a difference 4 decades make: Deforestation in Borneo since 1973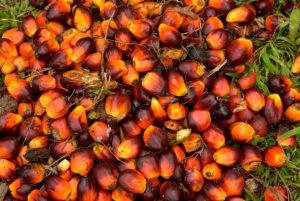 AN INDUSTRIAL-SCALE ISSUE
Palm oil is produced by industrial means. It is in everything from cosmetics to processed food, and biofuels to drive cars. It requires extensive infrastructure, including processing mills and refineries. Ultimately, huge tankers ship the oil to every corner of the globe.
Oil palm isn't the only industrial crop. Today, most of the world's food production and supply is done by industrial means. Industrial agriculture is a system of chemically intensive food production, featuring gigantic single-crop farms and production facilities, controlled by large conglomerates.
Intensive monoculture depletes soil and leaves it vulnerable to erosion. Herbicides and insecticides harm wildlife and people. Biodiversity in and near monoculture fields takes a hit, as populations of birds and beneficial insects decline. In fact, the abundance of flying insects has plunged by three-quarters over the past 25 years in the European countryside because of industrial agriculture, according to a new study.
In the humid tropics, industrial production of palm oil, soy, pulpwood and beef depletes biodiversity by being responsible for between 35% and 68% of all tropical forest loss.
Rates of forest loss and oil-palm developments are particularly marked on Borneo. Forest losses averaged 350,000 hectares annually from 2001 to 2016, while by 2016 the area of industrial oil palm plantations reached 8.3 million hectares (Mha) — about half of the estimated global planted area of 18 Mha. From 2005 to 2015, the expansion of industrial oil palm plantations was responsible for 50 percent (2.1 Mha) of all of Borneo's old-growth forest area loss (4.2 Mha).
Tools like the Borneo Atlas, and its new feature to assess the impact of mills, aim to equip governments, NGOS and companies with the capacity to see the full impact of industrial agriculture on forests, and to act accordingly to bring the rate of forest loss in their supply chains down to zero.
Read more: For a better Borneo, new map reveals how much terrain has changed
By David Gaveau and Mohammad Agus Salim, originally published at CIFOR's Forests News. 
---
For more information on this topic, please contact David Gaveau at d.gaveau@cgiar.org or Mohammad A. Salim at m.salim@cgiar.org.
This research forms part of the CGIAR Research Program on Forests, Trees and Agroforestry, which is supported by CGIAR Fund Donors. 
This research was supported by UK aid from the UK government and the United States Agency for International Development (USAID).