Home
Events
UNFSS Pre-Summit Affiliated Session – Strengthening food systems transformation through agroecology
UNFSS Pre-Summit Affiliated Session – Strengthening food systems transformation through agroecology
Online
27 Jul 2021 19:30-20:20 CEST / 13:30-14:20 EDT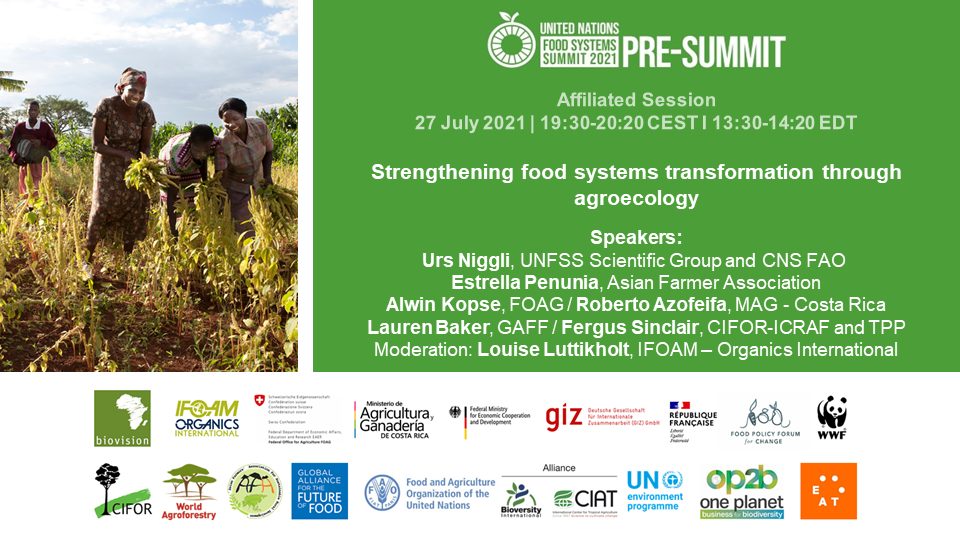 ---
Join us in this interactive session to call for food systems transformation through agroecology!
What?: Strengthening food systems transformation through #agroecologyworks – Affiliated Session of the UNFSS Pre-Summit
When?: Tuesday, 27 July 2021, 19:30-20:20 CEST / 13:30-14:20 EDT
Why should you join this event?
Learn from dedicated farmers, governmental representatives and financial supporters how agroecology works for them in practice and how they overcame obstacles and limitations for its implementation and upscaling.
Share your support to agroecological approaches as a key concept for food systems transformation, get to know and join various agroecological initiatives, and invite others to act.
The event aims to further strengthen the vibrant multi-stakeholder coalitions to transform food systems based on agroecological principles.
Speakers:
Urs Niggli , Member of the UNFSS Scientific Group and the Swiss National FAO Committee (tbc)
Estrella Penunia , Secretary General, Asian Farmers Association (tbc)
Alwin Kopse , Swiss Federal Office for Agriculture
Roberto Azofeifa , Ministry of Agriculture and Livestock of Costa Rica
Lauren Baker , Senior Director, Global Alliance for the Future of Food
Fergus Sinclair, Chief Scientist CIFOR ICRAF and co convenor Transformative Partnership Platform on Agroecology
Moderation: Louise Luttikholt, Executive Director, IFOAM Organics International.
Duration: 50 minutes
Simultaneous translation in French, Spanish and English will be available.