Home
Events
SDG Talks International Women's Day – CIFOR and UNDP Launch Report!
SDG Talks International Women's Day – CIFOR and UNDP Launch Report!
Zoom 14h00 - 15h30 WIB (UTC+7)
12 Mar 2021
The Sustainable Development Financing (SDF) Program of UNDP Indonesia since 2016 has supported the Government of Indonesia to integrate climate change management into the planning and budgeting process by promoting gender equality, transparency, and principles based on participation and poverty reduction. In 2020, the SDF Program in collaboration with the Ministry of Finance and the Ministry of Women's Empowerment and Child Protection with the PATTIRO institution has compiled a study related to the Gender Responsive Climate Change Budget, which analyzes the results of the designation of climate change and gender thematic budgets in two ministries, namely the Ministry of Environment. and Forestry and the Ministry of Energy and Mineral Resources.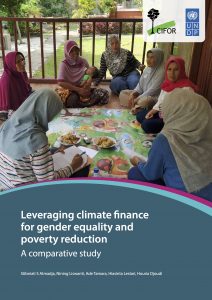 As a follow-up to this study, UNDP Indonesia in collaboration with CIFOR has prepared a study on "Leveraging climate finance for gender equality and poverty reduction for gender equality and poverty reduction" in the form of a comparative study of climate finance mechanisms that contribute to gender equality and poverty reduction and follow-up studies on climate project implementation at the subnational level.
With the completion of this report, the SDF project intends to hold a public webinar as a discussion platform regarding climate and gender finance, as well as the dissemination of study results to all stakeholder elements from the Government, Parliament, CSOs, NGOs, Educational institutions and the general public.
This CIFOR/FTA – UNDP publication will be officially launched in an open webinar on the 12th of March 2021.
The event will also be broadcast on UNDP's YT channel.
Note: the event will be in Bahasa, with simultaneous interpretation in English.