Home
Events
Land use and the Koronivia Joint Work on Agriculture
Land use and the Koronivia Joint Work on Agriculture
WEBINAR ON THE OUTLINE OF THE JOINT FAO-CGIAR PUBLICATION
Online
28 Jan 2021 9:00-10:00 AM (Rome time) or 16:00-17:00 PM (Rome time)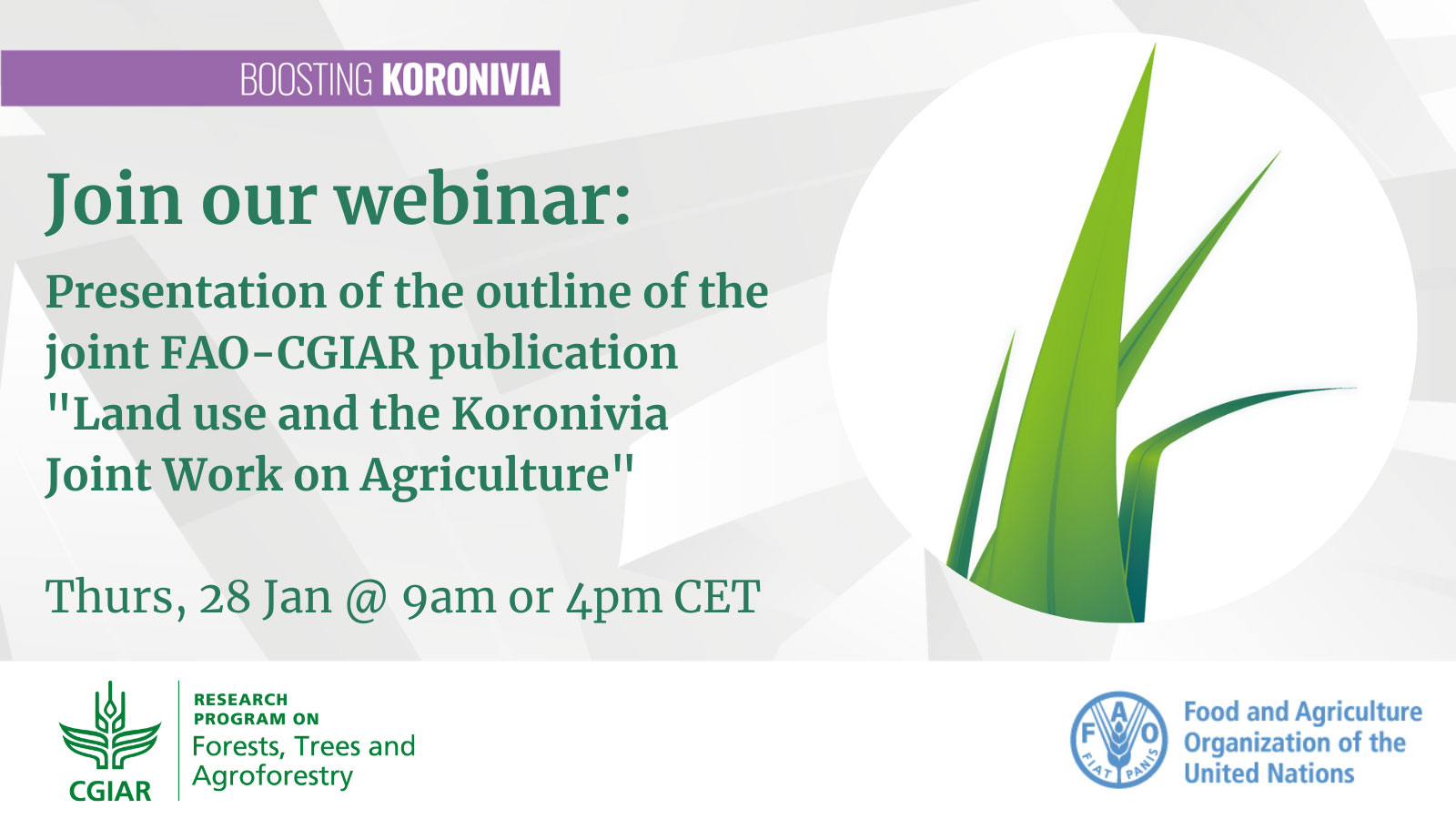 Land use and the Koronivia Joint Work on Agriculture, 28 Jan 2021
Presentation of the FAO CGIAR joint publication on 'Land use and the Koronivia Joint Work on Agriculture | 28 Jan 2021 | 09:00-10:00 (CET) and 16:00-17.00 (CET) (the webinar will be conducted twice to allow participants from different time zones to attend)
Moderator: Martial Bernoux, FAO (Senior Natural Resource Officer)
The webinar will present and discuss the forthcoming joint publication on 'Land use and the Koronivia Joint Work on Agriculture' by FAO and the the Center for International Forestry Research (CIFOR), lead center of the research program on forests, trees and agroforestry (FTA) of the Consultative Group for International Agricultural Research (CGIAR). The webinar objectives are to:
Present and discuss the outline and different sections of the publication;
Show the interrelation between land use and agricultural sectors; and
Gather feedback and comments from participants.
REGISTRATION LINKS:
Participants are advised to register in advance for one of the two sessions via the links below. A confirmation will be sent after the registration is completed.
Morning session:
January 28, 2021 09:00AM (Rome)
Register
Afternoon session:
January 28, 2021 04:00PM (Rome)
Register
Event Outline:

9:00-9:05
Welcoming remarks
9:05-9:10
Introduction on the Koronivia joint work on agriculture
Martial Bernoux, Senior Natural Resources Officer, FAO
9:10-9:30
Presentation of the outline
Vincent Gitz, Director of the Research Program on Forests, Trees and Agroforestry (FTA) and Aleaxandre Meybeck, Senior Technical Advisor, FTA/CIFOR
9:30-10:00
Q & A and Discussion