Home
Events
From a decade of research to a decade of impact!
From a decade of research to a decade of impact!
10h30-11h45 UTC
Online at GLF Glasgow
5 Nov 2021
Presenting the FTA Highlights at GLF Glasgow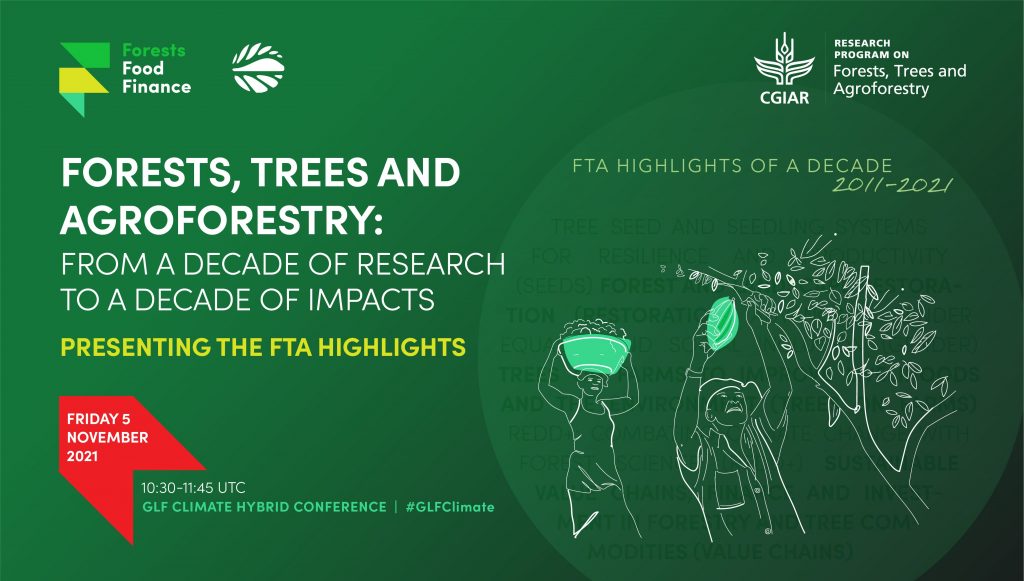 The CGIAR Research Program on Forests, Trees and Agroforestry is wrapping-up a decade of research 2011-2021, and looking for the future. This means both looking at new research and new knowledge needed, but also how to bring it to action on the ground. This also requires new partnerships. A push for action does not mean that the research period is over, but that research needs to be embedded into action.
The session will showcase emblematic examples from a decade of research under the FTA program, showing how these have been brought to action and impact, focusing on links to climate, food, biodiversity agendas. It will then feature a discussion of stakeholders at national and international level, on the role they see for research to help them achieve their own objectives, and how they see in practice this role going forward in the 9 years up to 2030, putting findings for action at scale, in landscapes, to address climate, biodiversity and food systems challenge, and at the same time learning and increasing our knowledge. This includes a reflection on how research, innovations from technical solutions to social and institutional innovations around forests and trees and how they can be better managed, can contribute in practice to the climate, biodiversity and food agendas and immediate action. While it is recognized that time is short until 2030 and the urgency in these 3 agendas (climate, food, biodiversity) is to act, it is also urgent to do it mobilizing top-edge current knowledge, as well as, in the path forward, embedding research, further learning and knowledge generation into action.
---