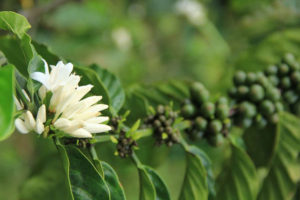 As CATIE (Tropical Agricultural Research and Higher Education Center) marks its 45th year, it is continuing to build its reputation as a renowned research platform and internationally recognized education institution.
So, what is CATIE's vision for the future of its unique combination of education, research and innovation?
Remarking on the anniversary milestone, CATIE's Director General Muhammad Ibrahim said CATIE's vision over the coming years would focus on offering leadership in the generation of 'agents of change' and in search of solutions to challenges facing the region and the world that have been emphasized in the Sustainable Development Goals and the United Nations Framework Convention on Climate Change.
"CATIE has become an ally to countries across Latin America and the Caribbean as it constantly generates new knowledge and makes it available," he said.
Read also: CATIE continues to improve people's wellbeing across Latin America and Caribbean through education and research
"In line with FTA's role in enhancing the role of forests, trees and agroforestry in sustainable development and food security, and addressing climate change, CATIE has two very important programs, which link perfectly," said Eduardo Somarriba, leader of CATIE's Agriculture, Livestock and Agroforestry Program (PRAGA).
"One very important part of CATIE's work in FTA has been the development of the Nicaragua-Honduras sentinel landscape [NHSL], where CATIE has introduced a climate smart territories methodology, carried out research initiatives and supported more than 20 master's theses," he added.
The sentinel landscapes initiative has made rapid progress toward understanding important metrics of ecosystem health, as well as drivers of land degradation across a range of ecosystems in the global tropics. An important part of the initiative is the integration of socioeconomic surveys and ecosystem health metrics.
Meanwhile, the CATIE-MAP project has produced a range of tools and farmer resources on alternative agricultural practices related to a range of crops and livestock.
"These include coffee, cocoa, livestock, silvopastoral systems, backyard gardening and staple cereals," said Somarriba, "and their distribution has focused on farmers and agricultural extension services."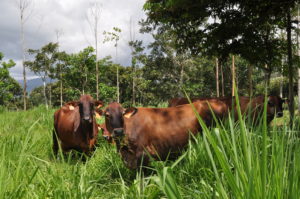 CATIE's work in the following areas links closely with FTA's efforts to progress sustainable development and food security and to address climate change:
Forest restoration of degraded land
Mitigation and adaptation to climate change in the forestry sector and in the framework of conservation efforts and management of ecosystem services
Policy and governance of multiscale management of forests, biodiversity and hydrological ecosystem services
Conservation strategies for forests, biodiversity and ecosystem services
Productive efficiency and resilience of livestock based on silvopastoral systems
Productive efficiency and resilience of agroforestry systems with perennial crops (coffee and cocoa)
Carbon stocks and greenhouse gas flows in agroforestry systems and silvopastoral areas
Read also: Nicaragua-Honduras sentinel landscape on FTA
"CATIE is dedicated to research and graduate education in agriculture and the management, conservation and sustainable use of natural resources, introducing the knowledge generated by its research programs. This allows students, technical staff and professionals to be exposed to the knowledge and to be able to adapt it for use in their countries," Somarriba explained.
Indeed, CATIE ensures that the knowledge it generates is put into practice and adopted on the ground across Latin America and the Caribbean. The center's projects implement farmer field schools as the main capacity building mechanisms to influence farmers and their families.
CATIE's graduate school has educated over 40 professionals at master's and PhD levels using the NHSL as a research platform. These graduates then return to their home countries where they can apply their knowledge to their work in national development and education programs.
In terms of higher education overall, CATIE has seen 2,530 professionals graduate with master's and doctoral degrees, and has trained more than 70,000 people in various fields related to sustainable agriculture development and natural resource conservation. CATIE publications are also regularly used by academic institutions in Latin America in their educational programs.
"The center also works closely with policymakers and the governance platforms of many private subsectors — such as livestock, coffee, cocoa and forestry. CATIE's research results support the development of public policies and private development programs through these platforms. For instance, CATIE's research has supported the development of Nationally Appropriate Mitigation Action (NAMA) interventions in the livestock sector in all Central American countries," Somarriba said.
"We have built all this work jointly with key local partners, national and international, who we thank today for their cooperation and for joining in sustainable, rural and inclusive development alongside CATIE," Ibrahim concluded.
Read also: CATIE aims to strengthen its work in environmental livestock, agroforestry, agrobiodiversity and family farming
By Hannah Maddison-Harris, FTA Communications and Editorial Coordinator, and Karla Salazar, CATIE Communicator.