FTA has supported and contributed to positive and constructive changes in the governance of forests, trees and agroforestry in many ways, ranging from informing and orienting discourses at the global level to supporting decision making at the national, subnational and landscape levels.
FTA's vision is that multifunctional landscapes with trees, agroforestry and forests — managed at the interface of public- and private-sector actors — can support progress towards the Sustainable Development Goals (SDGs) and help achieve the aspirations of landscape inhabitants and external stakeholders.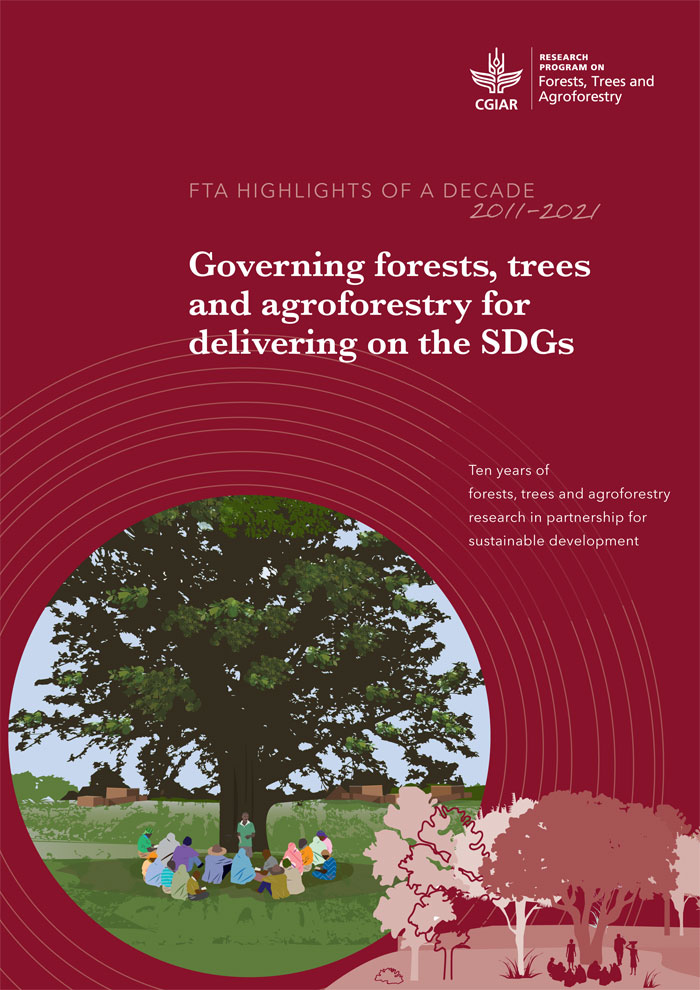 Governance is a dynamic process, and governance decisions in tropical landscapes are about how stakeholders take common decisions on forest, agroforestry, and agricultural land management, on the production of tradable commodities, taking into account environmental services such as water, nutrients and carbon cycle and biodiversity conservation. It is also about how policies are elaborated to improve the enabling environment to enable positive change.
As part of "FTA's highlights of a decade," a new series focusing on its main results since being established in 2011, the FTA program is now publishing the volume on Governing forests, trees and agroforestry for delivering on the SDGs.
FTA efforts supported good governance in landscapes through five principles: legitimacy, strategic direction, performance, accountability and fairness.
Contributions to research and innovation and actual impact on good governance have been achieved by FTA at the landscape, subnational, national and supra-national levels.
The elaboration of national policies is a key aspect of governance-related work. FTA has worked to increase understanding of governance issues to effectively interact with and have an impact on policy domains around forests, trees and agroforestry issues. This needs to be drawn on a sound basis of evidence. FTA has heavily contributed to this. For instance, drawing on lessons from ICRAF's 40 years of agroforestry, a book . A decade of FTA work has contributed to the development of national agroforestry policies in a number of countries, including India, which brought in the world's first national agroforestry policy.
Landscapes are multistakeholder spaces, characterized by diverse perspectives, interests and goals. More often than not, these interests and goals conflict. Dealing with this requires participatory decision-making processes. This is why FTA's looked into "landscape democracy" — the operationalization of democratic and good-governance principles in multistakeholder processes at the landscape level.
Constraints to the functioning of landscapes can be addressed only partially at that scale only and often require policy reform at the national and international levels.
Photo Gallery
Good governance needs to operate on top of shared, evidence-based background. This requires specific approaches, methods and tools. Land-use planning is one key domain where it is specially important. FTA's Land-Use Planning for Multiple Environmental Services (LUMENS) tool started as a method of estimating opportunity costs for REDD+, and is now expanded into a  support tool for  informed and inclusive negotiation over land use.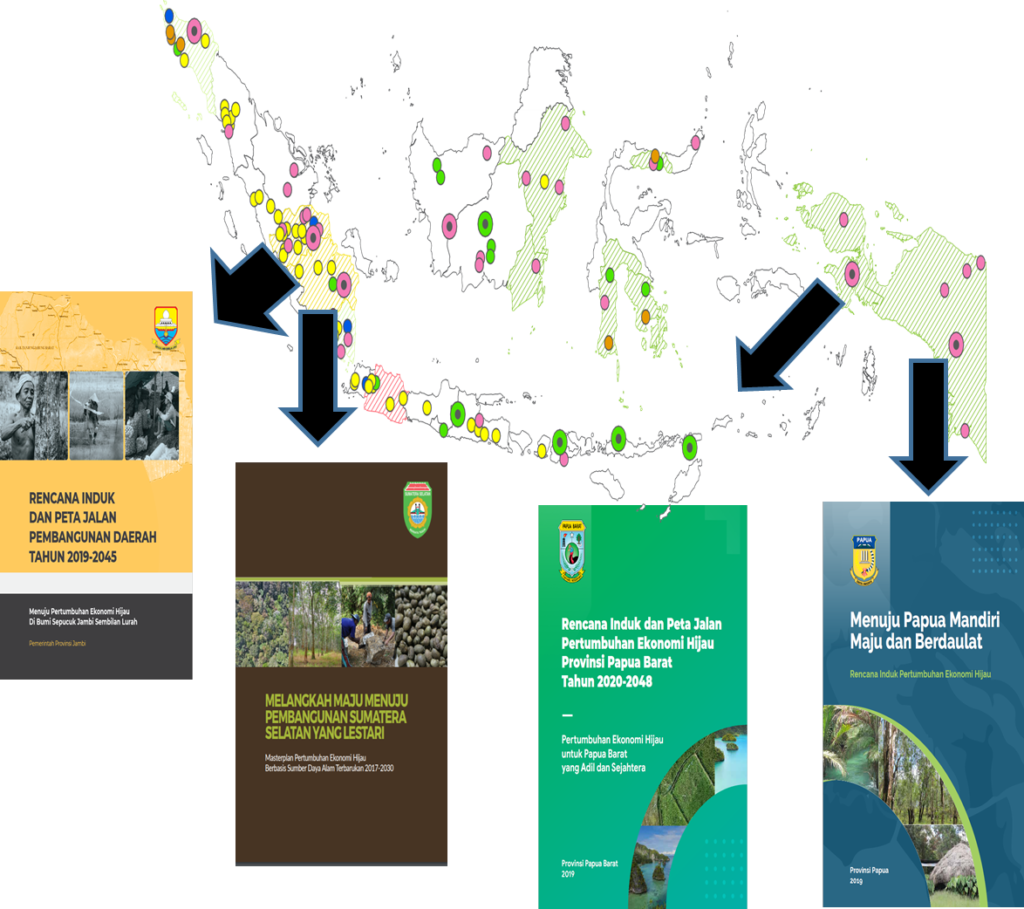 Green growth policy documents approved and published by provincial governments in Indonesia, facilitated by FTA scientists
Another example is the ¿Cómo vamos? assessment tool in Peru. Now an official government document, it will be implemented in all management committees of protected areas in the country. FTA also supported the process for establishing agroforestry concessions in Peru, which grant legal title to farmers on the condition that they commit to zero deforestation and engage in agroforestry.
Furthermore, FTA research showed that improving the effectiveness of community-based forest management cannot be achieved by top-down models, and how inclusive, people-centred governance was essential for change on the ground.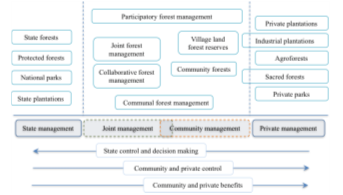 Various forest management models
The arrows indicate the direction along which the attribute continues to change. Note that participatory forest management captures both joint management and community management. Source: Duguma et al. 2018a.
In globally traded commodities, global trade, market and value-chain governance play a key role in driving good local governance and practices. For example, for timber, FTA examined the relationship between illegal logging and governance in Africa and Asia. A study of the effect of FLEGT's Voluntary Partnership Agreements (VPAs) on forest governance and community livelihoods underscored the need for measures that reach the actors on the ground; e.g. small-scale timber loggers. Also, FTA examined how the use of Free and Prior Informed Consent (FPIC) has increased trust in interactions between governments and local communities, in the certification of commodities such as palm oil.
Download the publication to find out how future initiatives can build on FTA results to contribute to improved governance and enabling institutional, policy and socioeconomic environments for more effective and efficient natural resource management, more inclusive value chains and landscapes, and to positively affect livelihoods.
http://apps.worldagroforestry.org/downloads/Publications/PDFS/B19029.pdf